Nutritional supplements play a significant role in overall ocular health. This is particularly true for conditions such as age related macular degeneration – AMD- and dry eye as well as overall visual performance.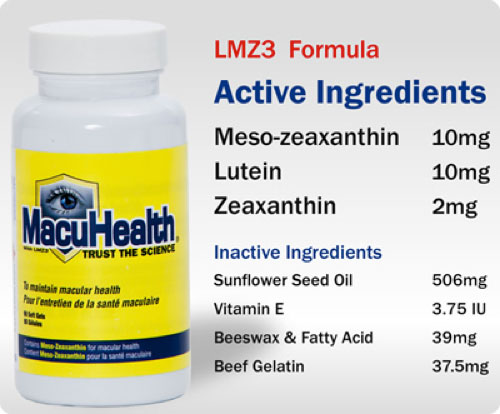 Macular Degeneration
There are three ocular carotenoids that act as anti-oxidants to maintain good macular health. These are Lutein, Zeaxanthin, and Meso-Zeaxanthin. Studies have shown that supplementation with these carotenoid compounds can reduce your risk of developing macular degeneration. They can also enhance visual performance in general improving vision in low light conditions.
We recommend Macuhealth, taken once a day to reduce the risk of macular degeneration.
Omega-3's for healthy eyes and dry eyes: Fish Oil

Omega-3 fatty acids from fish oil help maintain healthy structure and function of the ocular tissue by supporting tear production and protecting the eyes from oxidative damage. Certain unique biochemical characteristics of DHA omega-3s make it vital for the development, function and maintenance of the highly active, light receiving cells within the eye.
We recommend Nordic Naturals Omega-3 supplements. Nordic Naturals are a pharmaceutical grade source of these vital omega-3 fatty acids. This brand presents a fresher, more pure, more bioavailable and more potent supplement than the typical over-the-counter brand of fish oil.