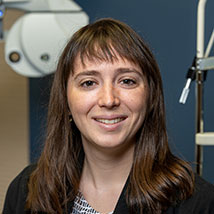 Dr. Nicole Schmiedt, OD
Dr. Nicole Schmiedt grew up in South Sioux City, NE and obtained her undergraduate degree in Biology at Concordia College in Moorhead, MN. After completing her undergraduate education, she was determined to provide the great state of Minnesota with high quality eye care. She went on to receive her Doctorate from Indiana University School of Optometry where she graduated in the Bicentennial Class of 2020 as the Salutatorian, With Highest Honors. Her clinical education at Indiana led her to train at state-of-the-art eye care facilities across the U.S. She received training in ocular disease, surgical co- management, minor surgical and laser procedures, specialty contact lenses, and vision rehabilitation.
Dr. Schmiedt believes in providing excellent eye care for all ages and all levels of vision. Her professional interests include low vision assessments, vision rehabilitation, and neurorehabilitation. She is excited to bring these services to the community, and to continue advancing in this field by becoming a Fellow of the American Academy of Optometry. She is a member of the Minnesota Optometric Association, American Optometric Association, and the Neuro-Optometric Rehabilitation Association.
When she is not in the office, Dr. Schmiedt enjoys gardening and cooking, listening to live music, and exploring Minnesota's hiking trails and state parks.