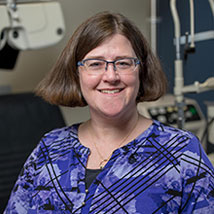 Dr. Laura Flockencier, OD
Dr. Laura Flockencier attended the University of Missouri at Columbia for her undergraduate studies. She completed her optometric training at Southern College of Optometry in Memphis, TN. Dr. Flockencier went on to post-graduate training in a Primary Care Residency program at New England College of Optometry in Boston, MA.
During her residency she concentrated on full scope primary care, diabetic care at the Joslin Diabetic Center and teaching optometry students. Her current professional interests are primary care and specialty contact lenses.
She is a Fellow of the American Academy of Optometry, a member of the Minnesota Optometric Association and the American Optometric Association. She resides in St. Paul.
Location: West St. Paul